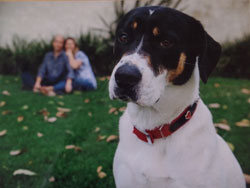 When Dr. Julie Voltin first met her dog Stella, she was the last of a litter of six puppies from a stray mother that needed a home. At 10 weeks old, Stella started going to work with Dr. Voltin and she has worked in three different animal hospitals exemplifying the human-animal bond. Today, at seven years old, therapy dog Stella roams the halls of Uptown Animal Hospital "finding different things that need to be done," Dr. Voltin says. Stella greets people and pets as they enter the hospital, entertains owners when they're waiting, and comforts those who receive bad news.
Stella's unique temperament allows her to read other animals and they calm down in her presence. One example of this is described by an owner of two dachshund patients of the hospital: "Inevitably my little dogs become visibly upset and tremble with fear when we enter the lobby. Stella promptly appears, tailing wagging, full of confidence, with a warm, friendly smile on her face and greets them. Whatever goes on with dog body language communication, my dogs are calmed by her presence and by what she tells them. After whatever procedure we are there for, Stella will appear in the exam room as if to say, 'I told you not to worry, didn't I?"
Stella's service as a therapy dog exemplifies the value of the human-animal bond in the very best way. Her calming temperament and her compassionate, patient, intuitive, playful, and nurturing nature makes her the perfect recipient for the Animal Hall of Fame Award.
https://cvmf.net/wp-content/uploads/2019/04/Stella_AHoF_2016.jpg
188
250
itulsupport
https://cvmf.net/wp-content/uploads/2019/03/cvmf-logo-padded.png
itulsupport
2016-01-10 20:07:00
2019-04-17 20:17:26
2016 Winner – Stella