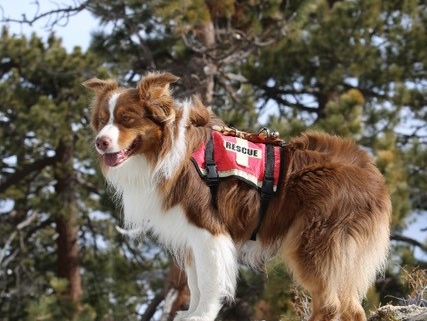 Just like the ingenious television character who shares his name. MacGyver is no ordinary dog. As part of the Santa Barbara County's Search & Rescue team. Australian shepherd MacGyver and his owner. Rick Stein, have helped to locate the lost and the deceased following accidents and natural disasters in some of the most tragic conditions. MacGyver is very adept with search techniques and can generally do so without a scent article. and is able to search in high altitudes and difficult terrain.
In 2018. MacGyver and Mr. Stein were honored with a special Pup Harris Fellow (aka Paul Harris Fellow) from the Santa Barbara Sunrise Rotary Club for their critical efforts during the Montecito debris flow incident. Joanne Schoenfeld, a past club president said, "MacGyver and his partner, Rick Stein, are only one of the many Santa Barbara Search and Rescue teams in our county. While I chose to honor them for their difficult work during the debris flow. they are hard at work all year long locating the missing in our area."
MacGyver and Mr. Stein have also shared their knowledge by training other handler/dog teams. They have spent countless hours teaching by example and their friendly and professional approach has proved invaluable to many teams.
MacGyver's dedication to locate the missing especially under difficult circumstances as well as his training contributions under the guidance of his owner, are clear examples of how his actions exemplify the human­ animal bond.
https://cvmf.net/wp-content/uploads/2020/08/MacGyver1.jpg
640
427
Nicole Campos
https://cvmf.net/wp-content/uploads/2019/03/cvmf-logo-padded.png
Nicole Campos
2020-08-10 16:06:30
2020-08-10 16:07:27
2020 Winner – MacGyver